How Do You Decide Which Christmas Tree To Buy?
Before you take a trip to the store, think practically about your needs. Take the time to double-check your measurements, think about the future, and don't rush the process. A tree is not easy to return, so it is important to get it right the first time. Some starting points are:
Which room will the tree be displayed?

Where in the room will the tree go?

How much space is available for the tree?

Is this the main tree in the house? Will there be multiple?

How will the tree be decorated?

How will I transport the tree?

How long does the tree need to last?
Artificial Versus Real Christmas Trees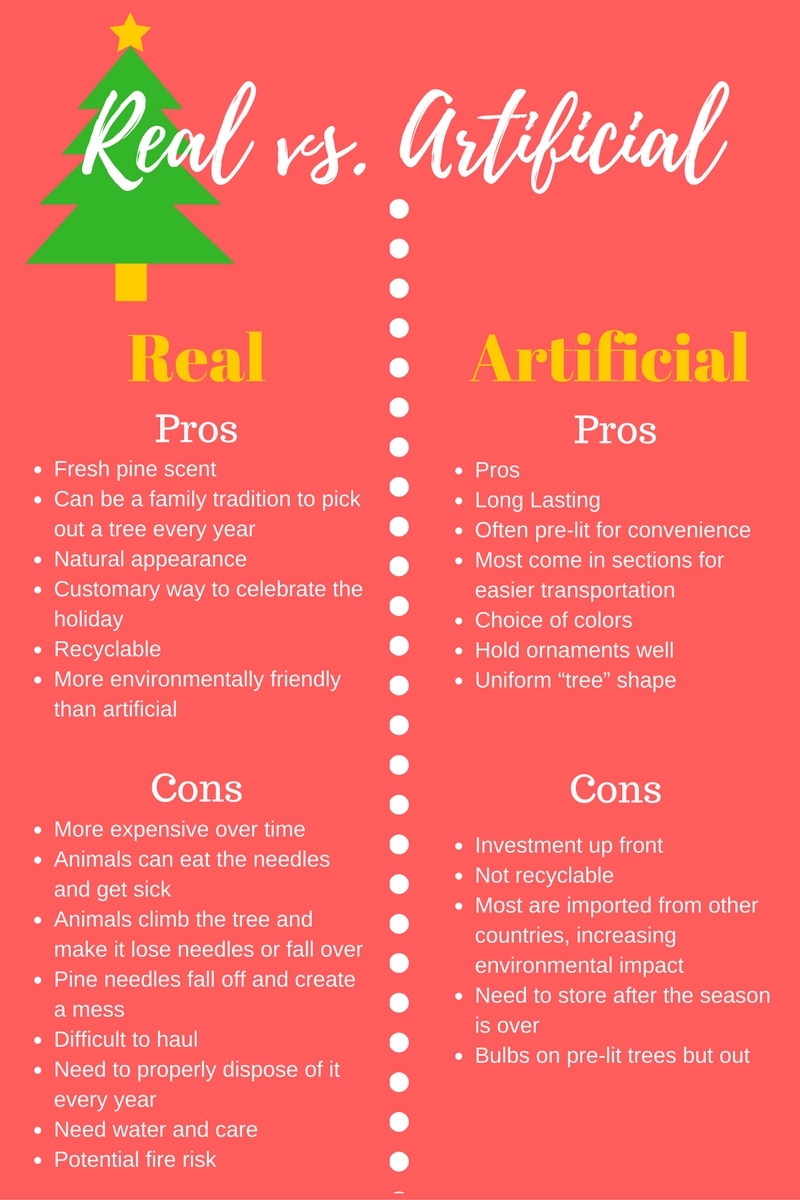 Real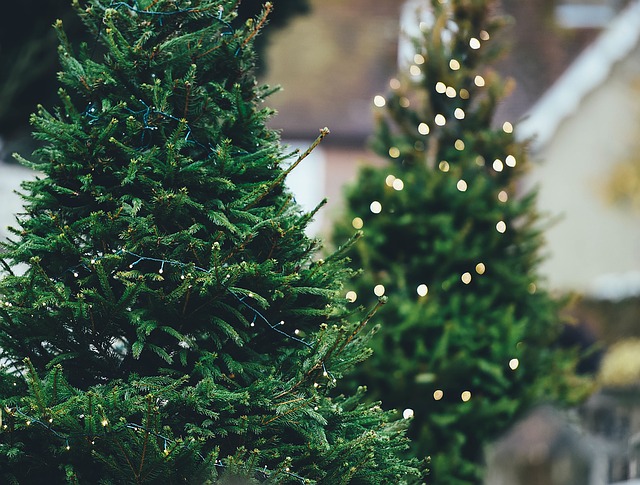 Pros
Fresh pine scent

Can be a family tradition to pick out a tree every year

Natural appearance

The customary way to celebrate the holiday

Recyclable

More environmentally friendly than artificial
Cons
More expensive over time

Animals can eat the needles and get sick

Animals climb the tree and make it lose needles or fall over

Pine needles fall off and create a mess

Difficult to haul

Need to properly dispose of it every year

Need water and care

Potential fire risk
Fact: Real Christmas trees are actually more sustainable than artificial. Most trees are grown just for the purpose of Christmas and therefore they would not exist in the first place if there was not a demand. They are also able to be recycled into things like mulch. Artificial Christmas trees are made out of materials that are not recyclable.
What To Look For When Buying Your Real Christmas Tree:
Needles- Check to see if the tree is healthy by pulling your hand toward you along the branch. If needles fall off, the tree is past its peak.
Height- When picking a tree you want to have a clearance of at least 6 inches between the tip of the tree and the ceiling. Make sure to add the height of the tree stand to your measurement.
Diameter- Measure the diameter by measuring the bottom of the tree from branch to branch. Notice the trees shape while choosing it. It might use the maximum amount of budgeted space on the bottom, but if the top is thin, it will not look as big as you want it to from afar.
Breed- The top selling trees across the US are the Scotch Pine, Douglas Fir, White Pine, and Balsam Fir. Each has distinct qualities for different needs.
Scotch Pine: The Scotch Pine has great needle retention, a bright green color, and high survival rate making it the most popular Christmas tree in the US. (PIC)
Douglas Fir: The Douglas Fir has a sweet pine scent, blue-green color, and needles that radiate in every direction from the branch. This makes for a very full-looking tree with a festive smell for the holidays. (PIC)
White Pine: The White Pine is the largest pine in the US. It has high needle retention, a blue-green color, and little scent. This tree is not recommended for heavy ornaments. (PIC)
Balsam Fir: The Balsam Fir has high needle retention, a dark-green color, and great shape. It also is known for its appealing scent. (PIC)
Tree Stand- Your tree stand should be able to hold the base of your tree without you sawing off the sides of the trunk. If you remove the bark from your tree it will not be able to hold water and will die.
Cut your own- Many trees that are precut have been cut several weeks ago. If you are able to cut your own, you can ensure freshness.
Caring For Your Real Christmas Tree:
The first thing you should do when you bring your tree home is to saw a couple of inches off the bottom of the trunk and then place it in water. By cutting the tree, you will open its pores so it can absorb the water. Trees can absorb as much as a gallon of water in one day so be sure to keep the dish full. It should never go below the tree's base.
Tree's live best in colder temperatures. Keep it away from heating ducts, fireplaces, or other heating sources.
Disposing of Your Christmas Tree
Check with your local recycling centers, some will accept trees to chip and turn into mulch. Another option is to chop your tree into smaller portions and put it in your compost waste bin for normal pick up. Lastly, most towns have a tree pickup that runs in January. Google your city with "Christmas tree removal" to see if this is offered near you. Most of these options are free and just require that you take off all ornaments.
Artificial
Pros
Long Lasting

Often pre-lit for convenience

Most come in sections for easier transportation

Choice of colors

Hold ornaments well

Uniform "tree" shape
Cons
Investment up front

Not recyclable

Most are imported from other countries, increasing environmental impact

Need to store after the season is over

Bulbs on pre-lit trees but out
What To Look For When Buying Your Artificial Christmas Tree:
Color- Artificial trees come in just about any color. This is fun because you can coordinate the tree with your ornaments. Artificial trees last about 10 years, so choose a color that you will like for years to come.
Height- When picking a tree you want to have a clearance of at least 6 inches between the tip of the tree and the ceiling.
Width- The diameter should be measured by the bottom branches because those are the longest. If you need room to walk around your tree, keep that in mind when budgeting how much space you have available.
Tree shape- Artificial trees are great because you have more control of the shape. Some trees are very triangle-shaped, while some are more pencil-shaped. Look at the space you have available and decide what will work best for you. You don't want to overwhelm your room, but you also don't want your tree to look wimpy.
Pre-Lit- There are both pros and cons to pre-lit trees. Although they are very convenient for the first few years, the lights will burn out eventually. At that point, you are faced with a choice to buy a new tree or put new lights on. This is a great link for learning how to replace your lights. http://www.balsamhill.com/Troubleshooting-Your-Balsam-Hill-Christmas-Tree-a/157.htm Choose a tree that is not pre-lit if you would rather use your own light strands.
Self Shaping- Self-shaping Christmas trees are nice because they have wire branches that fall into place when they come out of the box. This is a great feature if you are looking for convenience.
Tip Count- Tip count gives an idea of how full the tree will look. This is a helpful tool, but do not rely on it solely. The type of tree will also play a part in how full the tree looks. For instance, fir trees look more full than pine.
Caring For Your Artificial Christmas Tree:
Although artificial trees do not take much care, there are things you should do to keep it in good shape for years to come.
Dust it before you store it

Keep animals from biting the tree

Keep the branches in upright position when you store it
Storing Your Christmas Tree:
It is smart to keep the box when you buy your tree. This way you can put your tree back in it every year and prevent damage. To fit it into the box, separate the tree into sections like it came. Then push all the branches upwards to form an upside down triangle. You can then wrap the tree in plastic wrap to hold the branches in place and protect the tree from dust. Place the tree in the box gently and put it in storage for next year!
How To Decorate Your Christmas Tree
There are so many ways to decorate your tree. This is the most fun part of the process, but it can also be overwhelming! The best way to start is by picking a color and a theme. Pinterest is a great site to look for ideas.
After you have come up with an idea, go to the store and find items that will match your theme. Ribbon, bulbs, ornaments, tinsel, lights, and more will fill your cart. Keep in mind the size of your tree so that you don't overbuy. You will need about 100 lights per foot-and-a-half of the tree. Choose a pack with a strand that matches the color of your tree so they don't stand out.
When you get home, turn on some Christmas music, grab a hot chocolate, and get started! Here are the steps to keep you on track.
1.

Hang the Lights
Before you start wrapping, the first thing you should do is plug in the lights to make sure they work. Next, start at the top of the tree with the end of the lights that do not have a plug-in. Then move your way down the Christmas tree, making the space between each wrap even. If you run out of lights, connect another strand and continue until you reach the bottom. Plug them in to see how they look before you move to the next step.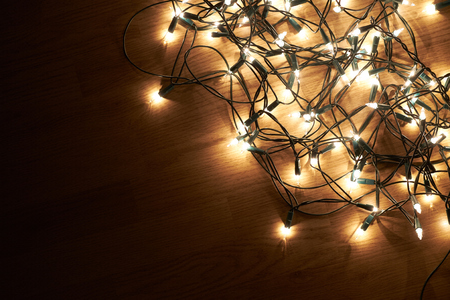 2.

Add the Garland or Ribbon
If you choose to have a garland or ribbon, put it on by wrapping it around your tree just like the lights. Put the strand in a different place than the lights so they both are visible.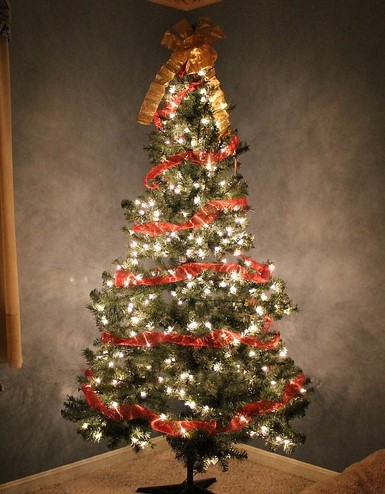 3.

Hang the Ornaments
Spread out the bulbs and ornaments so they fill the tree evenly. You can skip the spots that are not visible.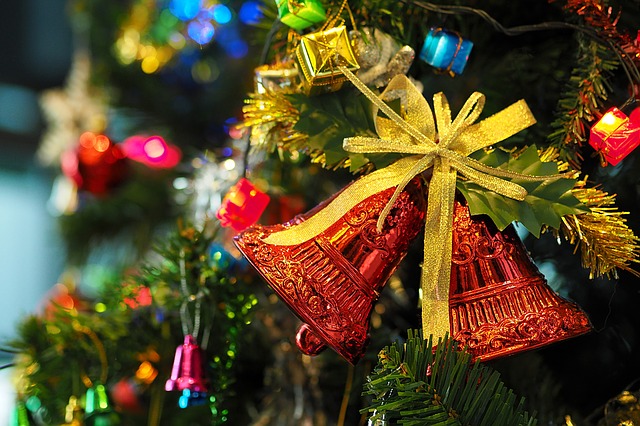 4.

Place the tree skirt
The tree skirt is a way to hide the base of the tree. Wrap the skirt around the base and lay it out nicely.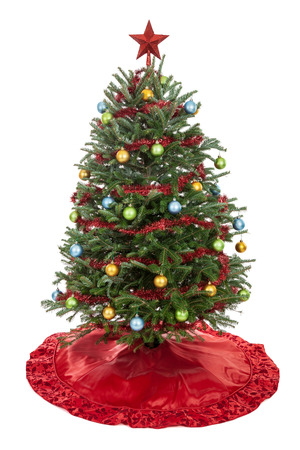 5.

Add the Tree Topper
Last but not least, add your tree topper! If your tree is tall, you will need a ladder for this step.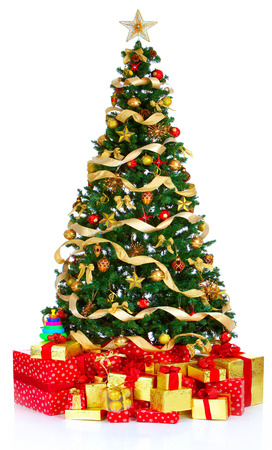 Now that you have decorated your tree, you are ready for the holiday season! Gather with friends, host a Christmas party, and enjoy the snow while it lasts!