How Much Does Tree Removal Cost?
Although we can't give you an exact price, we can give you an idea of what it may cost to remove your tree. The condition, size, diameter, and location of your tree will determine the cost.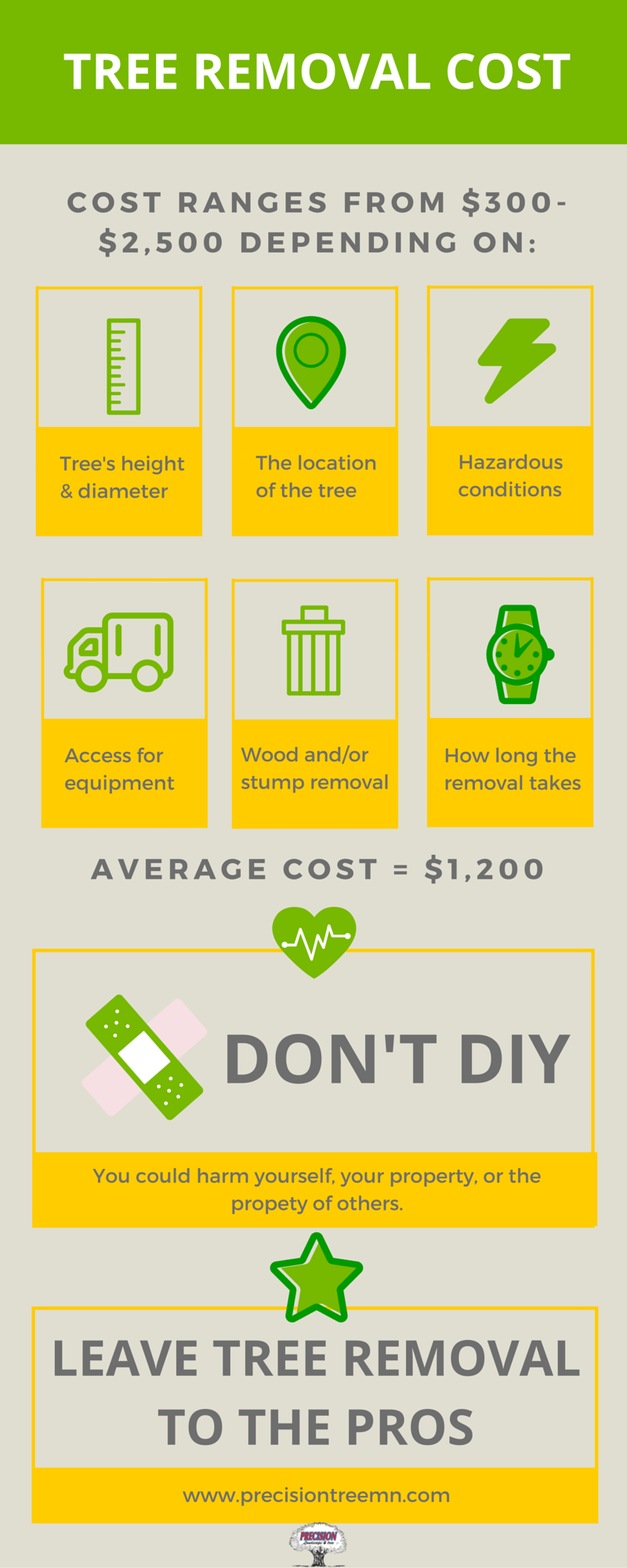 The Average Cost for Twin Cities Tree Removal is Between $300 - $2,500.
A simple rule of thumb: the bigger the tree, the more it will cost.
A 25-foot tree will cost around $100-$500.
A tree between 25-75 feet will cost around $200 - $1000.
A 75-foot tree can cost up to $1,500 or more.
Other Factors That Go into Tree Removal Price:
The price can range anywhere from $100 to $1,500 depending on extra services and costs.

If the company can easily access your tree. The removal can be tough if your tree is close to other things.

Some companies determine the price of removal by the height of the tree.
Example: A 30-foot tree at a price $11 per foot would cost around $330.
If your tree is in a tricky place, the price may be higher because it will be more work.
Emergency tree removal may cost more due to the danger and quick response time of the job.
Keep in mind, you may be able to get money for your wood.

The best time to remove a tree is in their dormant season, which is February or March.

What equipment they can use for the job affects cost too. The removal will be cheaper if they can use a bucket truck.
Average Stump Removal Cost
The average cost for stump removal in the twin cities is around $200 to $300. The job takes around 2 hours.
Stump removal prices can vary from $50-$300 per stump or $2-$3 dollars per inch of diameter.
Factors That Determine the Cost of Stump Removal:
Diameter of stump

Age of the tree

Type of soil

Type of tree

Root system

The health of the stump

How many stumps
Should I Have My Stump Removed?
Have you recently had a tree removed, but not the stump? Perhaps the tree fell during a storm and the stump is the only thing remaining. No matter the reason for your remaining stump, it is there! Stumps are often the afterthought of removing a tree. You may tend to focus on the aboveground part of the tree, but the roots and stump are important to remove too. You wouldn't remove the pests but leave their nest, would you?
Here are some facts about why you need to dump the stump in your yard:
They can create new growth. Stumps stimulate growth. You may notice little sprouts coming out around the trunk.
The roots will result in headaches. Your stump already has its own defined roots system. The roots can also cause havoc in your sewer pipes and paved walkways.
They can rot. Your tree stump will slowly decay. It will also grow more unsightly. The stump will attract pests/insects that love to eat dying wood. These insects could potentially head towards your home.
They are ugly. Stumps are eyes sores, they are just rotting wood in your yard. Your neighbors won't appreciate the lack of landscaping care either.
They take up space. You can't use the part of the yard that your stump is occupying. They are also hard to maneuver around when you mow.
They can be dangerous. Stumps in your yard can be hazardous for you and your children. They can be a tripping hazard and they aren't too pleasant to fall on top of. It is best to remove the potential harm from your yard.
The Cost of Renting a Stump Grinder to Remove Your Stump
A stump grinder will cost you around $100 to $200 a day. Note: You will need a trailer hitch to tow the machine back to your home. You will need a chainsaw to cut the stump as low to the ground as you possibly can. We should have the safety equipment that is required to do this too: a hardhat, eye protection, gloves, ear protection, chaps, and boots. The stump grinder and chainsaw are both loud pieces of equipment. Always stay by the rear of the machine, never get close to the cutting wheel.
You Can Hire a Tree Service to Remove Your Stump
Landscapers or professional tree removal service cost will depend on the size of the trunk. For reference, a stump with a 2-foot diameter costs around $100 to $150 to be removed. Hiring a professional is a hassle free way of removing those stubborn stumps. Don't try weird DIY methods like hooking it with a chain on your truck, or using chemicals to kill the stump. Hiring a certified and insured professional will save you time and money in the long run.
The Cost of Taking a Tree off of Your Property
Some companies include taking away the tree in their estimate. Other companies make you pay an extra fee to have the wood removed (around $50 to $75). Look for this when you get an estimate.
Chopping up the Wood of Your Removed Tree
Do you want some firewood? This is a convenient service if you have a fireplace. Log splitting costs around $75.
The cost to make your wood into wood chips is also around $75. The price may be lower or included in the removal, just check your bid!
Watch out for Low Prices
Companies have to pay for licenses, equipment, insurance, and travel expenses. If you get an extremely low bid, it could mean the company might be skimping on required things.
Call Around and Get Bids
A local tree removal service will give you the best estimation. Go ahead and request a bid from every local tree removing service in your area (at least get two or three bids). Then you can pick the best price and service.
Get a Bid From Us Now!