How Much Does Tree Removal Cost?
Although we can't give you an exact price, we can give you an idea of what it may cost to remove your tree. The condition, size, diameter, and location of your tree will determine the cost.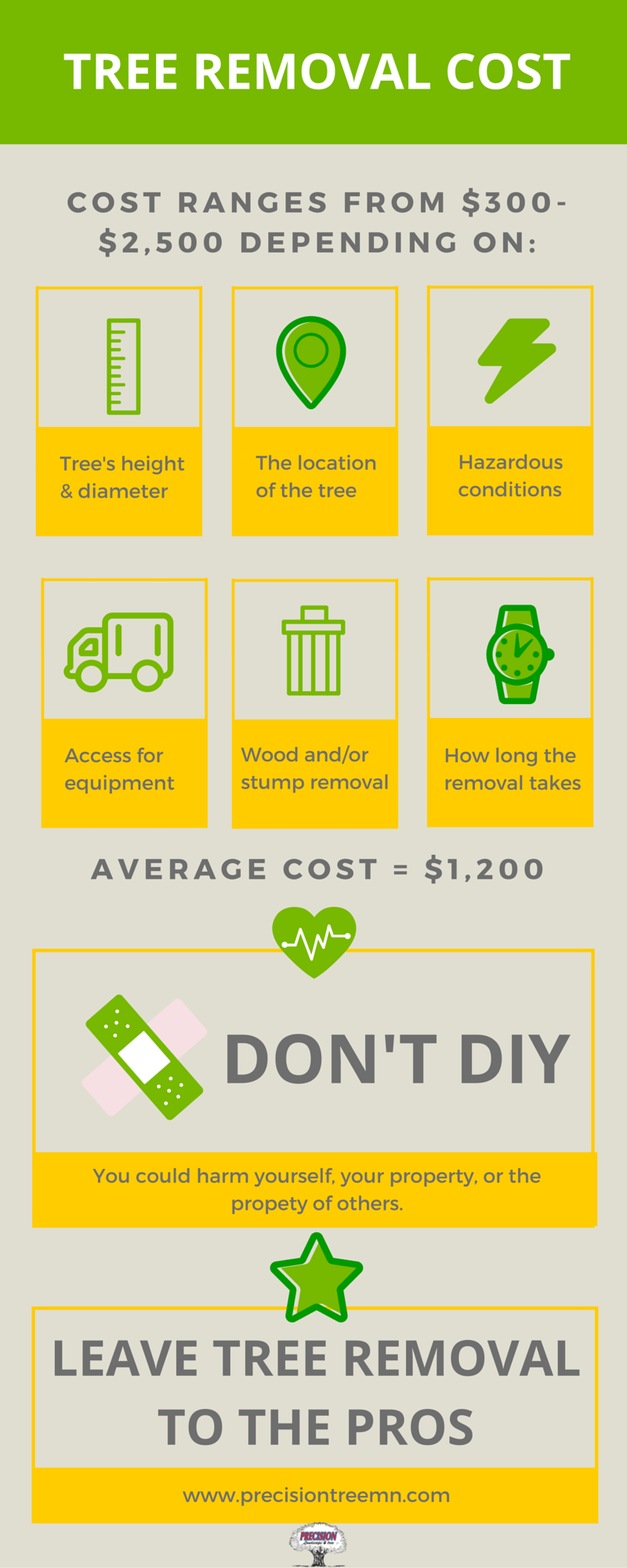 The Average Cost for Twin Cities Tree Removal is Between $300 - $2,500.
A simple rule of thumb: the bigger the tree, the more it will cost.
A 25-foot tree will cost around $100-$500.
A tree between 25-75 feet will cost around $200 - $1000.
A 75-foot tree can cost up to $1,500 or more.
Other Factors That Go into Tree Removal Price from a tree removal company:
Accessibility

: If the tree is easily accessible the cost will be different than if the tree is pinched between multiple buildings and overhanging a glass house. The removal is much more difficult and complex in the latter example, leading to more time and labor hours needed to complete the job.

The height of the tree. In general, the taller the tree the more costly it is to remove it.

Emergency tree removal

may cost more due to the danger involved and urgent response time of the job.

Time of Removal: The best time to remove a tree is in their dormant season, which is February or March. Removing trees in the winter when tree service companies are less busy, may impact the price.

Equipment needed

: The tree removal will be cheaper if standard equipment can be used. But, if the location and accessibility of the tree prevents the use of efficient tree removal equipment, the job will take longer leading to a higher cost.
The Cost of Taking a Tree off of Your Property
Some companies include taking away the tree in their estimate. Other companies make you pay an extra fee to have the wood removed. Look for this when you get an estimate.
Watch out for Low Prices
As with many services, a company can woo new business with extremely low bids. Transparent and trustworthy tree service companies have licenses to maintain, investment in top-notch equipment to do the job right, and minimum levels of liability insurance to carry. These all factor into their rates. If you get an extremely low bid, it could mean the company might be skimping on something that will prevent them from doing a superb job. Or it could mean that in the event of an accident (e.g. the tree that they cut falls onto your house) there will be a disagreement about who is fully responsible to pay for the damages.
Multiple Bids
If you venture out and obtain multiple bids, there is a strong likelihood that those bids will not be the same. Every tree removal company will approach a job differently and consequently price their bid differently. Do your research and know what you are getting. It is tough to put a value on great service, but that is one thing we excel at after removing trees for over 30+ years.
Get a Bid From Us Now!
Related Articles:
The Average Cost for Stump Removal Services
The Average Cost of Tree Trimming Services