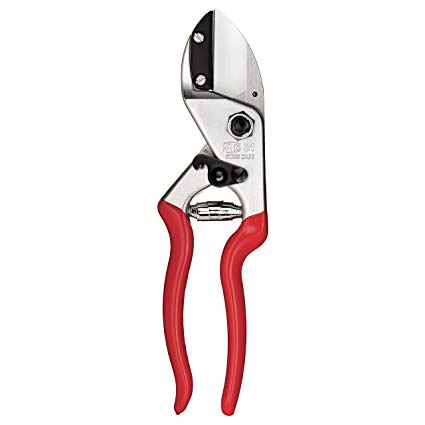 Pruning not only helps keep your landscaping beautiful, but it's also necessary to promote tree growth and health. In order to do your best pruning, you'll need the right tools to get it all done.
Here's Our List of Must-Have Tools for Pruning Trees:
1. Pruning shears (or pruners, clippers or secateurs)
These are probably the most-used tool when it comes to pruning shrubs, flowers, vines, and small growth on trees. Pruning shears are hand-held and can cut branches and twigs up to ¾ of an inch thick.
There are three basic types of pruning shears: anvil, bypass, and ratchets.
A bypass is the most popular of the three and acts like scissors. It is good for growing stems.
Anvil pruners feature a straight blade that uses a splitting action. They work well for dry branches and stems.
Ratchet pruners are similar to anvil pruners, but they feature a mechanism that cuts in stages. Ratchet pruners are good for those who don't want to strain their wrists. GardeningProductsReview.com has an article on the best hand pruners complete with information on many different brands.
2. Loppers
Great for branches up to 2 ½ inches thick and are especially useful for pruning fruit trees, nut trees, and vines. This tool is really similar to a pair of hand shears but the blades are thicker and the handle is much longer. Loppers also come in anvil, bypass and ratchet styles.
3. Pruning Saws
Next in the pruning tool lineup is a pruning saw which is capable of taking on branches from 1 ½ to 5 inches in diameter and are available in many different styles.
4. Hedge Shears
Hedge shears are great if you have hedges, small shrubs, evergreens, or deadheading perennials. They can be used on any hedge shrub and cut branches up to 2 ¼ inches thick.
5. Pole Pruner
To reach dead wood in trees or for light pruning, a pole pruner (tree pruner) is a must-have. Pole pruners can generally be used on any tree and can cut through branches up to 1 ¼ inch in diameter. The best part is that most pole pruners can reach 8 feet or more, eliminating the need for a ladder in many cases. It's also important to note that there are electric pole pruners, too.
Caring for Your Tools
Having the right tools isn't any good if they aren't kept in proper working order. Keeping them clean is a top priority. Not only can tree sap gum everything up, but tree diseases can spread from tree to tree. Carry a rag in your pocket to wipe down blades between uses, and if you've been pruning diseased branches, wipe down the blade with alcohol before moving on to another plant.
Also, keeping blades sharp is very important. The Family Handyman has a great article with instructions on how to sharpen pruning shears and other garden tools.
Of course, some jobs may require the work of a professional arborist. If you're looking for help, we can certainly provide some! Call us at 651-484-2726.