Emerald ash borer has killed millions of ash trees in 24 states and parts of Canada, and it will continue to spread. This guide aims to arm you with information on what the destructive insect is, why you should care and how you can help slow its spread. Here's your guide to emerald ash borer.
What is Emerald Ash Borer?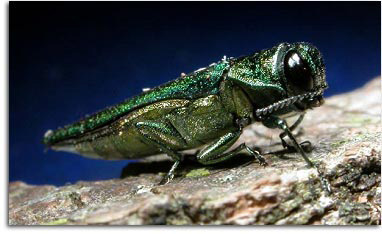 Emerald ash borer is a nonnative, invasive insect that infests ash trees and destroys them. Emerald ash borer, or EAB, was accidentally introduced to the United States in the 1990s when wood packing material was imported to southeastern Michigan from eastern Asia. The pest wasn't recognized until 2002 as the cause of ash tree deaths. The first signs of EAB in Minnesota were in 2009.
Why Should I Care About Emerald Ash Borer?
Minnesota has the largest ash tree population in the United States and the pest has killed millions of trees across 24 states. Ash trees lack the ability to defend themselves against these insects, and unless they're treated with insecticides, they will be killed if they become infected. Not only are these trees important to our ecosystem, but the loss of them can have significant economic impacts as well. The cost of removing and replacing just a single tree can cost hundreds or thousands of dollars.
Is Emerald Ash Borer in My City?
As of September 2015, a handful of Minnesota counties had been placed on the state's quarantine list, which aims to help slow down the spread of EAB. Those counties include:
Anoka
Chisago
Dakota
Fillmore
Hennepin
Houston
Olmsted
Ramsey
Scott
Winona
For any of the cities that are part of these counties, the quarantine prevents you from removing nursery stock or wood, logs or wood chips from ash trees. (Read more about Minnesota's EAB quarantine. For quarantine information for other affected states, click here.) Scott County is the most recent addition to the list after EAB was found on a property in Prior Lake.
How Can I Identify an Ash Tree?
There are four species of ash trees that can be attacked by EAB: green, white, black and blue ash. Green and white ash are the most common in the Midwest. According to a document on the Minnesota Department Agriculture (MDA) website, use the following criteria to properly identify ash trees:
Branch and Bud Arrangement: Branches and buds are directly across from each other, not staggered. One thing to keep in mind is that buds or limbs may die, so not every single branch will have an opposite mate.
Leaves: Leaves are compound and composed of 5-11 leaflets, and the leaf margins may be smooth or toothed. (The only other oppositely sided tree with compound leaves is the boxelder, which is sometimes mistaken for an ash tree.)

Bark: On mature trees the bark is tight with a distinct pattern of diamond-shaped ridges. On young trees the bark is relatively smooth.
Seeds: When seeds are present on trees they are dry, oar-shaped samaras. They usually occur in clusters and hang on the tree until late fall or early winter.
In addition to the boxelder tree, other trees that resemble ash trees include elm and black walnut. See the full Ash Tree Identification document for more details on the differences between the look-alikes.
How Can I Detect Emerald Ash Borer?
EAB kills ash trees by burrowing into a tree and feeding on its nutrients. The pests lay larva in the bark and can reproduce and spread at an incredibly fast rate. It can be hard to detect the pest in the early stages of infestation, but here are symptoms and signs of EAB:
Larvae or adults: Larvae are found feeding beneath the bark and are cream-colored, slightly flattened and have pincher-like appendages at their abdomen. Adult beetles are metallic green and about the size of one grain of cooked rice

Early coloration in the fall

Branches coming out from the lower trunk

Woodpeckers: The birds eat the larvae that are under the bark so if you see an increase in woodpecker activity, take notice

⅛-inch D-shaped exit holes in the bark

S-shaped tunnels under the bark

Branches dying from the top down

Vertical bark splits

Sparse foliage
It's also important to mention that drought and tree injury can also present some of the same above symptoms. The photos to the right are some examples of EAB infestation to help you determine what sort of problem you're dealing with.
How Can I Help Prevent the Spread of Emerald Ash Borer?
To prevent the spread of EAB, it's absolutely crucial to not remove any of the following items from infected and quarantined counties:
Firewood from hardwood trees

Entire ash trees

Ash limbs and branches

Ash logs or untreated ash lumber with bark attached

Uncomposted ash chips and uncomposted ash bark chips greater than 1 inch in two dimensions
The little beetles are easily transported in dead ash logs and firewood, and despite the quarantines that exist, it appears the removal of wood is the top cause for the rapid spread.
What Should I Do if I Discover a Diseased Tree?
For Minnesotans, if you think you've spotted an infested tree report it to the Arrest the Pest Hotline at This email address is being protected from spambots. You need JavaScript enabled to view it. or 888-545-6684. For all other affected states and Canada, go to emeraldashborer.info and take a peek at its "Where to Call if You Suspect Emerald Ash Borer" page.
In addition, you can contact your local arborist and tree care company. For Minnesotans, the MDA offers a way to search registered tree care companies. And, of course, we at Precision Landscape & Tree are here to help.
Can I Treat Ash Trees Myself?
There are options for homeowners to treat small ash trees, but those pesticide applications need to be done with great care to avoid other environmental impacts. For large trees, you should certainly get in contact with a licensed professional. And, the first thing you should do is get in touch with your city or county forester to see what requirements or prohibitions they have for the treatment of EAB.
Additional EAB Resources
We compiled this guide with our expertise along with a number of valuable resources. All of those resources are listed below, along with a number of other helpful links.
Specific Articles
Videos
Minnesota Resources
Other States & National Organizations
(Photo Credits: Minnesota DNR and The DNR of Maryland)
This article will be updated with new information on EAB as it becomes available. The most recent update on this page was: 1:15 p.m. Wednesday, Sept. 2, 2015.